Updater Software
PC Firmware Updater
Update firmware on your Axxess Integrate product and configure your ASWC-1 using your Windows PC!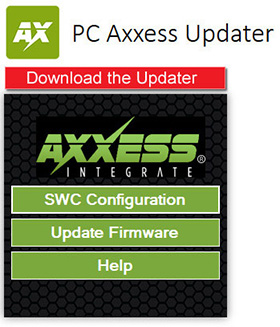 Important!
Axxess Updater is a new application: Windows SmartScreen, your web browser, and/or antivirus may flag it as an unknown application. You will need to allow the installer to run in order to use Axxess Updater.
Having the latest software will:
Ensure complete compatibility between the Axxess product and the vehicle you are installing it in.
Obtain the latest logic and software for trouble-free operation.
Increase vehicle coverage for existing products.
Get revisions to the product faster to prevent unnecessary downtime in the field.
AXXESS Updater App
Update All Axxess Interfaces and Easily Change SWC Functions From Your Mobile Device
The Axxess Updater App has a redesigned interface for a modern look and feel with improved support for devices. This app auto-detects the interface, scans the current firmware and lets you force update! A new design helps users easily find vehicle-specific products, instructions and user manuals for Axxess products. Download or update your app now. Available now.
Remap and dual assign ASWC-1 functions
Direct connect to Tech Support
Works with most mobile devices including smartphones and tablets
Use with OTG "On The Go" Cable and with the AX-Hub


AXXESS.i Backup Camera Add-on Software Update for Windows PC
Download the latest software update to customize your AXXESS.i Backup Camera Add-on products
For use on PCs with Windows XP (or higher) operating systems
Use this software to customize your AXXESS.i backup camera add-on product features. Set when the cameras activate, control different camera positions (when using multiple cameras), and customize other product features.
AXXESS AX-DSP App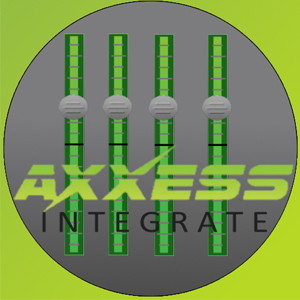 Axxess, a leader in vehicle interfacing, has once again set the industry standard by developing a cost effective option for customers desiring to improve vehicle sound quality with a Digital Signal Processor. The AX-DSP presents an all-in-one solution for a variety of car audio system setups, from fixed level output (digital) to analog OE systems, and even adding a subwoofer to an OE system. Our before the amp solution is designed to allow the installers the option to remove the factory amplifier or to add a subwoofer all while maintaining the OE features and controls of the radio. Whether you have a Digital or Analog factory amplifier system, the AX-DSP has you covered.

The AX-DSP App allows you to quickly and easily configure all of the AX-DSP's parameters via the Bluetooth interface on your phone or tablet. Its intuitive interface provides controls for:
Vehicle Type selection
Input Level selection
Subwoofer Source selection
Independent two-way crossovers - Front, Rear and Subwoofer
All speakers can be delayed independently up to 10ms
Separate 31 band Equalizers for the Front, Rear and Subwoofer channels
Chime Volume control
Clipping Detection control
Amp Turn On selection
Read, Write, and Store your information for future recall